I got up this a.m. and weighed myself. I'm 203.5 which is down again from yesterday wooo hoooo! I sure hope it stays. I went out to breakfast with the girls, I ate 2 eggs and about a quarter of 2 pancakes. Oh, and we also had mimosas. That's not too terrible but I estimate at least a 400 calorie bfast if not more.
I'm planning to eat just some Green Giant vegetables for lunch to help off set breakfast. I've tried some new ones and the mix that's in the rosemary butter sauce is really fantastic! Its called healthy vision - I guess b/c its got carrots in it. Even though they say its butter sauce - they've engineered it somehow to not be full fat so its not as bad calorie-wise as you think. I coped this from a
food review site: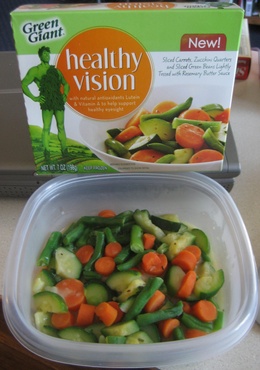 Price: $1.00 on sale
Serving: 1/2 cup, 3.5oz.
Servings per Package: 2
Calories: 45
Fat: 3%, 2g
Cholesterol: 2%, 5mg
Sodium: 9%, 220mg
Protein: 1g
Carbohydrates: 2%, 2g
Fiber: 8%, 2g
Sugar: 3g
Weight Watchers Points: 1 Point
Now all I have to do is exercise today!!! I just had to share that the scale is moving - it was a pleasant and honestly unexpected surprise. Its moving b/c I've seriously cut back on the calories. I know this will be short lived - it always happens this way. The same calorie intake will stall on the scale and I'll have to do something else to change it up. I'm planning for that to be increased exercise. Some of you out there kick some serious butt when it comes to exercise and I need to hop on that train with you!